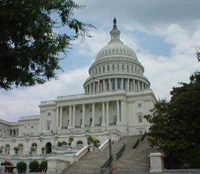 Every year the ECSGA board sets legislative priorities that inform the association's lobbying efforts.  Some time during the first quarter, a dozen or more of our members — often joining forces with counterparts from the Pacific Coast Shellfish Growers Association (PCSGA) — travel to Washington, D.C., to educate their elected representatives on these and other issues.
You can read about the most recent Walk-the-Hill trip in this April 2017 newsletter piece.
Read a summary of the status and background of the European Union shellfish trade embargo.
To see the ECSGA's past legislative priorities, follow the links to previous years: