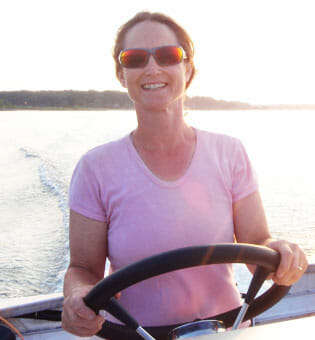 President and New York Representative
Karen was inspired to be a Marine Biologist while watching the "Undersea World of Jacques Cousteau" on television when she was 12. She graduated from Southampton College, Long Island University in 1981 with a degree in Marine Science.
She began working at the Shinnecock Tribe Oyster Project in 1983 as a research technician for Dr. Robert Malouf at the Marine Sciences Research Center, State University of New York at Stony Brook. That is where Karen fell in love with shellfish farming. She has worked in commercial hatcheries, including the Bluepoints Company hatchery in West Sayville, N.Y., as well as the Shinnecock hatchery.
Karen is president of Aeros Cultured Oyster Company, Inc., which she and her business partner, Jim Markow, began in 1994 as a hatchery in the basement of his house. She moved the hatchery to Shellfisher Preserve, a Peconic Land Trust property, in Southold, N.Y., in 2004 after setting up the Noank Cooperative hatchery in Noank, Conn.
She is a founding member of the Noank Aquaculture Cooperative (2000), East End Marine Farmers Association (2001) and the East Coast Shellfish Growers Association (2002). Karen presently serves as the president of the Long Island Farm Bureau.
She was drawn to shellfish mariculture because it is very satisfying to produce something she has grown from a fertilized egg. Karen also hopes that this work will help make the Long Island Estuaries she works in more productive.
Contact Karen at keeno59@optonline.net