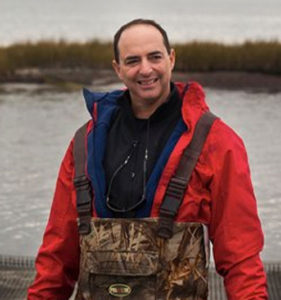 Daniel J. Grosse (B.S., Natural Resources, University of Michigan; M.S., Ph.D., Fisheries Biology, University of Washington) co-founded and heads the Washington, DC-based environmental consulting firm TerrAqua Environmental Science and Policy, LLC.
His company has developed aquaculture and agriculture projects and studies for clients ranging from small traditional communities to a Fortune 500 company. He has worked for NOAA and the U.S. Navy, and has farmed on Israeli agricultural collectives.
Currently, he also grows oysters commercially at Toby Island Bay Oyster Farm in Chincoteague, Va., and is an adjunct professor at the University of Maryland University College Graduate Program in Environmental Management.