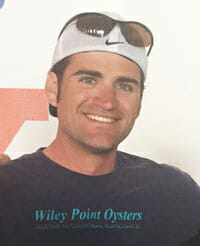 Jeff Auger began working in aquaculture as an employee of Cape Cod Oyster Company in Barnstable, Mass., back in 2002. He continued to work in the industry throughout college and law school, where he became a legal intern for the Conservation Law Foundation.
He graduated from Pace Law School in 2012, passed the New York and Massachusetts bar exams and is licensed to practice in Massachusetts.
For the past two years he has worked at Mook Sea Farms as the river manager. He participated in the ECSGA's "Walk on the Hill" and discussed farm sanitation at the last Maine Fisherman's Forum.
Contact Jeff at:
Mook Sea Farm
321 State Route 129
Walpole, ME 04573
mkseafarm@gmail.com
(207) 563-1456
(855) 563-1456